(0)
Share the road: Anderson Dam Tunnel Project construction and public safety
Construction is underway at Anderson Dam and Reservoir, bringing increased traffic on Cochrane Road in Morgan Hill. This is also a popular route with local cyclists and Valley Water encourages everyone to share the road. To reduce the potential for traffic accidents, Valley Water has directed its contractors to remind their construction vehicle drivers to follow posted speed limits and watch for cyclists and pedestrians. It also plans to increase the number of warning signs along Cochrane Road to inform cyclists to be aware of project trucks. These signs will remain in place throughout the life of the project. Cyclists can help stay safe by wearing bright reflective clothing, using blinking bicycle lights, staying alert while on Cochrane Road and obeying all traffic laws and signage. And if possible, avoid using Cochrane Road. If you see a project construction vehicle speeding on Cochrane Road, please contact Public Information Representative Tony Mercado at 408-630-2342 or via email at tmercado@valleywater.org to share incident details and the project truck's cab logo if it was identifiable. As a reminder, please stay out of the closed areas at Anderson Reservoir. The work there is centered on building a new tunnel over the next three years that will allow the reservoir to release more water into Coyote Creek during significant storms. The reservoir's water levels were lowered in 2020 at the directive of federal regulators to expedite the retrofit of Anderson Dam.
Public safety is Valley Water's priority. Please help keep the Anderson Dam and Reservoir construction site and surrounding areas safe.
Saturday Ride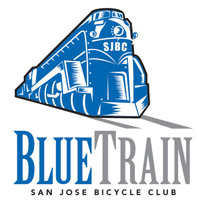 Departures:

A Group: departs at 9:00am from the first Saturday in October until the last Saturday in May. Starting with the first Saturday in June and until the last Saturday in September, the ride departs at 8:00am. Ride starts at the Alamaden Via Valiente Plaza.

Download the A ride route to your Garmin here.


B Group: departs at 9:00a from the Santa Teresa Village Shopping Center parking lot on the corner of Santa Teresa Blvd and Bernal Rd.

Download the B ride route to your Garmin here.