Company Information
971 Calle Amanecer, Suite 100
San Clemente, CA. 92673
phone: 877-852-8457

web: Rudy Project

connect:



(0)



Rudy Project is a modern, marketing oriented company that has established itself as a leading brand worldwide. Rudy Project designs and manufactures hi-tech sunglasses, goggles, helmets and accessories using the application of science, advanced materials and computer technology to create functional, aesthetically superior and technologically advanced products. Rudy Barbazza, a pioneer in the Italian sunglass and sporting goods industry, founded Rudy Project in 1985. Through his vision and dogged commitment to technology and innovation, Rudy has created a company and a creative environment that has achieved many "firsts" in manufacturing eyewear, goggles and helmets.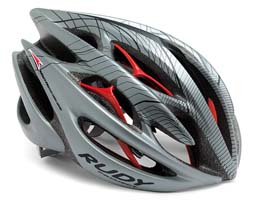 Rudy throughout the years has been a champion of sponsoring and supporting athletes at every level of competition. It is no wonder that Rudy Project products have been worn by many greats including Bernard Hinault, Miguel Indurain, Jan Ullrich, Erik Zabel, Claudio Chiappucci, Abraham Olano, Michellie Jones, Spencer Smith, Laurence LeBoucher and countless others.

Rudy Project North America
Conceived by veterans of the sunglass industry and one of the nation's largest distributors of name brand sunglasses, Rudy Project North America management has joined forces to distribute and market Rudy Project technical eyewear and products in the United States and Canada.

The unique combination of the Principal's industry background and experience, together with the physical and operational resources of their distribution operations, is a primary strength of Rudy Project North America. Paul Craig was most recently Vice President of Marketing at Bolle America, Inc., a specialty sport sunglass company based in Denver, Colorado. Prior to this position, Paul had several years of experience at the Eyewear Division of Bausch & Lomb (Ray-Ban), the world's largest manufacturer of sunglasses. One of the nation's leading optical distributors with a distribution center located in Southern California provides distribution expertise. Their collaboration provides significant advantages to Rudy Project North America.

Rudy Project North America intends to be an aggressive marketing and sales company, leveraging management's collective eyewear knowledge. The company has prepared and is ready to execute what it believes to be unique marketing and sales programs, including aggressive advertising to build the Rudy Project brand in the U.S. market, and the most comprehensive guarantees in the eyewear business.