(0)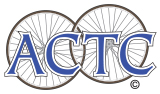 The Almaden Cycle Touring Club (ACTC) is a group of about 1000 bicycle enthusiasts based in the south San Francisco Bay area. Emphasis is on group fun and safety, with a variety of bicycling related events for a wide range of ability levels. The club ride calendar has an average of over 150 rides per month, so there is usually a ride that will fit your needs. Guests are welcome on club rides, and it is easy to make new friends.

Terra Bella
The Almaden Cycle Touring Club invites you to celebrate Spring by riding some of the prettiest roads in southern Santa Clara County on our 33rd annual Tierra Bella Bicycle Tour. One of California's top-rated cycling events, the Tierra Bella takes place on Saturday, Saturday, April 17, 2010. With four different routes, from flat to hilly, you're sure to find the route that's right for you.

Over 250 ACTC members will be on hand to provide our traditionally outstanding rider support, including multiple rest stops on every route. Rest assured that there will be plenty of GREAT FOOD at every stop, plus a delicious catered hot meal at the end of your ride.

Other ACTC Events
The Sierra-to-the-Sea Bike Tour is held each year in June. The route includes 7 days, from the Sierra Mountains, through the Gold Country, to San Francisco.

The ACTC Academy is a series of on-bike sessions in order for beginning cyclists to improve their riding skills. Academy Modules are held throughout the year for groups of up to 20 riders.
The Club newsletter, The Black and Blue Bottom, is published monthly and includes a schedule of rides, club announcements, and a variety of articles pertinent to the club and to cycling.
The monthly ride schedule includes all of the club-sponsored rides for the month. There are an average of 150 club rides held each month, which attract an average of 10 riders each. These rides are led by a club member, and cover all levels of difficulty. There are rides suitable for everyone, from the beginning bike rider to the advanced cyclist.

Visitors and guests are welcome to join club rides, and are encouraged to join the club at any time. First time riders please read the Ride Notes and Classifications before participating in a club ride.

Ride Statistics are kept for each club member, showing the rides that were ridden throughout the year. Totals are kept for: miles, Billy Goats, Grizzly Bears, and Mountain Goats. The stats are generally updated weekly, as ride sheets are turned in. An Awards Party is held each year to recognize all of the club riders. Awards are given to riders with over 1000 club miles, and for Billy Goats, Grizzly Bears, and Mountain Goats.

Billy Goats are a group of major hills around the south bay area. Credit is given for each Billy Goat climbed during a club ride, and special recognition is given to those riders who are able to complete a certain number of different Billy Goats. Riders who do 10 or more different Billy Goats will earn a Billy Goat patch. Grizzly Bears are a selection of special places, special days, or special rides. Grizzly Bears are generally flatter rides, and must not include a Billy Goat. Credit is given for only one Grizzly Bear done during a club ride, so when there are multiple possibilities for a ride you have to choose which one you want the ride to earn. Riders who do 10 or more different Grizzlies will earn a Grizzly Bear patch. Mountain Goats are a group of dirt roads and trails (usually with lots of climbing). Credit is given for each Mountain Goat done on a club ride. Riders who do 10 or more will earn a Mountain Goat patch.