(0)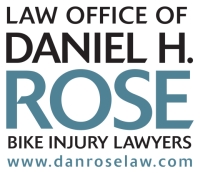 The Law Office of Daniel H. Rose is a highly reputable Bay Area law firm which specializes in representing injured bicyclists and their families, with more than 27 years of successful experience.

We are avid bicyclists, we know the California Vehicle Code and local traffic laws and relentlessly pursue compensation for victims of negligent motorists.

We offer to all Bay Area bicyclists a free no-obligation consultation with a senior attorney.

Our firm supports the California Bicycle Coalition (CBC), East Bay Bicycle Coalition (EBBC), San Francisco Bicycle Coalition (SFBC), Marin County Bicycle Coalition (MCBC), and many other bike organizations, teams and clubs.